Welcome to the Montana Dinosaur Trail!
This statewide trail runs across Montana and consists of 14 locations from the Montana Dinosaur Center in Bynum to the Carter County Museum in Ekalaka. Each location offers a glimpse at the historic discoveries in the state and provides visitors with a better understanding of the giants that once inhabited our planet.
Dinosaurs present the unknown – they ruled our planet for over 100 million years, and yet we know so little about them. Unlike lions, tigers and bears, we cannot simply drive down to the local zoo to study these massive creatures. Rather, we have to take a trip back in time and – piece by piece – put together their stories. It is our innate curiosity that has driven us to study these creatures. In Montana, we are privileged to host some of the richest dinosaur fossils, and the state boasts some of the most important discoveries and renowned paleontologists.
We have grown up with dinosaurs, seen the illustrations, visited the museums, and after a while, all of the remains (at least of the same species) begin to look relatively the same. The untrained eye may begin to question what we can learn from the 25th Triceratops specimen, but as Dr. John Scanella, the John R. Horner Curator of Paleontology at the Museum of the Rockies, once said, "just because something is old, or familiar, or common, that doesn't mean that it has nothing left to teach us."
Montana Dinosaur Trail Activities
As you explore Montana Dinosaur Trail museums, watch for these icons which indicate activities that are available at each location.

Exhibits
A Montana Dinosaur Trail location with unique paleontology displays, interpretation, replicas, or actual skeletons of dinosaurs and other fossils found in Montana.

Programs
A facility that provides public/visitor education programs and/or guided tours of the paleontology displays associated with the facility. These may be both regularly scheduled or available upon request.

Field Digs
A museum that operates or is formally affiliated with organization(s) conducting paleontology field digs which are open to the public. Adherence to the Society of Vertebrate Paleontology Bylaws, Article 12: Code of Ethics is required.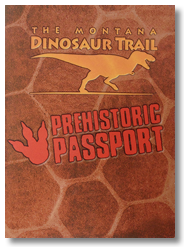 Get Your Montana Dinosaur Trail Prehistoric Passport!
The Montana Dinosaur Trail Prehistoric Passport is your guide back in time – millions of years back – as you explore the Montana Dinosaur Trail. The passport describes the extraordinary dinosaur displays, exhibits, and activities found in Montana.
Shop the Montana Dino Trail Store!
Get your swag from the Montana Dinosaur Trail. Shop for dinosaur related clothing, phone cases, stickers, wall art, home decor, and more!